Vikings Go Berzerk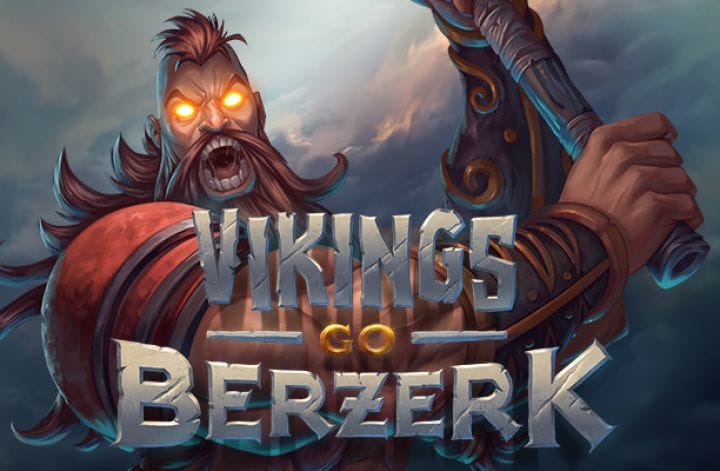 Vikings Go Berzek Casino Slots - Review
Norse mythology prides the North Germanic people of Northern Europe on having had Viking warriors, one of the fiercest and brutal warriors in history. Viking warriors are renowned for their conquering sprees, which they embarked on large ships acquiring new territories, expanding their tradition – which they preferred to call civilization – as well as amassing looted treasures, thereby increasing their wealth. 
However, instead of destroying adverse territories and packing up plundered valuables as they are known for, Viking warriors, for once, are themselves terrorized by charming but despicable sea creatures known as sirens or mermaids. The mermaids allured seafaring Viking warriors with their beauty and utterly destroyed them alongside their ships.  
A siren is a creature whose upper body appears in the form of a beautiful, adorable female, while the lower body appears in the form of a fish. Sirens usually display only the upper body, thereby attracting sailors, warriors, merchants, and ship crew to them and destroying them. Check out their stories through unique online play slot games here!
Having lost several Viking warriors to mermaids, four Viking warriors have been sent out to go and avenge their comrades. Thus, they sail in rage and fury under the command of an angry dragon raging in anger on the metallic board of the ship. The rage of these warriors is sure to keep you winning big and enrich your pockets. So draw your battle sword and join these warriors in their retributive adventure and ensure you gather as much treasures chests and golden treasure chests as possible.
To learn more on these casino slots check our full review below, or try one of the video slots below:
The Developers of Vikings Go Berzerk: Yggdrasil Gaming 
Vikings Go Berzerk is an online slot machine developed by Yggdrasil Gaming and has risen to become one of its most popular video slots. Having been established in 2013 by a seasoned developer, Yggdrasil has had a tremendous impact in the iGaming industry, particularly with their Viking-themed series of video slots. More mega win and slots like this on Slots Racer
In recognition of Scandinavian mythology, it adopts a company name that is significant amongst the Norse peoples. According to Norse mythology, Yggdrasil stands for a revered ash tree that serves as a link to the nine worlds, and an abode for dragons, eagles, as well as Asgard – home of gods.
Yggdrasil is expertly developing slot games that are immensely bound in shrewd technology, well-designed graphics, unparalleled mathematics, and enriching animations, which altogether provide an unprecedented sensation amongst players of online and paypal casino alike. The categories of their gaming interests so far include table games, classic scratch cards, jackpot games, video keno, lotto games, in addition to video slots (which are the most popular). 
Yggdrasil has its base in Malta and operates under the duly licensed authority of the Malta Gaming Regulation. Its games are played in physical and online casinos in Malta and most parts of Europe, Asia, and some parts of Latin America.
It would be fair to give you a few slot games to play at Slots Racer. They include:
About Vikings Go Berzerk Casino Slots - Gameplay & Symbols
While the war goes on against the sea creatures, you are to rack up treasures using the rage of the warriors, the treasure chest, the golden treasure chest, the Ragnarok free spin feature, and the standard free spin feature.   
This slot machine has fantastic 3d graphics that drive home the themes of rage, retribution, and vendetta lying in the thoughts of the four warriors. The atmosphere is filled with revenge as captured in the frightening demeanour of the dragon. The graphics equally depict the sirens in the best possible imagery, especially as the warriors land on the reels to fight them off. The sound design also makes you want to be involved in this battle the more.  
This video slot has 5 reels and will be played on 25 fixed paylines – which would all be wagered on. The stake value ranges from at least 25 pence to 125 pounds at most, for every spin (excluding the free spins).
Some familiar buttons and functions would assist you in setting up your bet and playing as you wish, which include:
The "Bet" button sets your wager or coin size. The "Max Bet" button helps to set the highest bet available on the game. After you have chosen your preferred bet value (max bet), you start spinning using the "Spin" button on the screen. The "Auto-spin" button helps you to set the reels in motion until your preferred bet limit is reached. Just click it, and it would start. Deposit by phone slots like this one can be found here!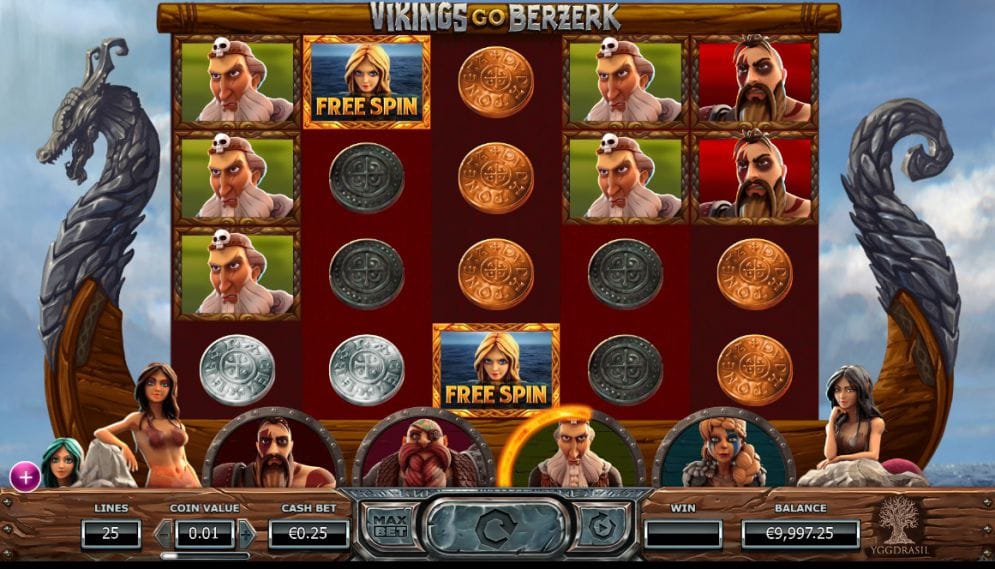 All Free Spins & Bonus features in Vikings Go Berzerk
Random Bonus feature 
In this slots offers feature, a bonus list is provided to you from which you choose one bonus. You have 3 free spins, 5 treasure chest symbols, 1 random sticky wild, 5 golden treasure chest symbols, and a wild reel randomly triggered. 
Viking Rage feature
There's a rage meter which is topped by Viking warriors for every time you win, giving you more significant wins. The Vikings are meant to fight the sirens, changing to a wild symbol upon winning and remaining a Viking upon losing. When the range meters of the Vikings are filled to the brim, you will receive 7 free spins, and each Viking with a filled meter goes Berzerk. 
Ragnarok Free spins (Berzerk mode)
In this mode, all the 4 Viking warriors go Berzerk and usually become wild symbols, rewarding you with the highest bonuses to keep you on track. Vikings go berserk during the random bonus and golden treasure chest features.
Treasure Chest feature
This feature is activated when the treasure chest symbol is found on the 4th reel and appears in the free spins feature as well as the bade game. In the free spins mode, it provides you with either a coin win of 50 to 100 coins or a cash prize of 2-40 times your wager value. 
Golden Treasure Chest feature
This feature is set in motion with the appearance of the golden treasure chest symbol on the 5th reel. This appears in the free spins and base game. The free spins part has multiple perks from which you can pick only one, such as 250 to 10,000 coins, a cash prize of up 10 and 40o times your wager value, an increase in Viking rage, or the Ragnarok free spins. 
Free spins feature
The free spins feature is activated by the appearance of at least 3 scatter symbols on the reels, especially from the leftmost reels. During this feature, all wild symbols become sticky. Landing 3 scatter symbols will award you with 7 free spins, while 4 scatters would provide you with 14 free spins, and 5 would offer you 21 free spins. 
For more viking slots, check out the Vikings Fortune: Hold and Win slot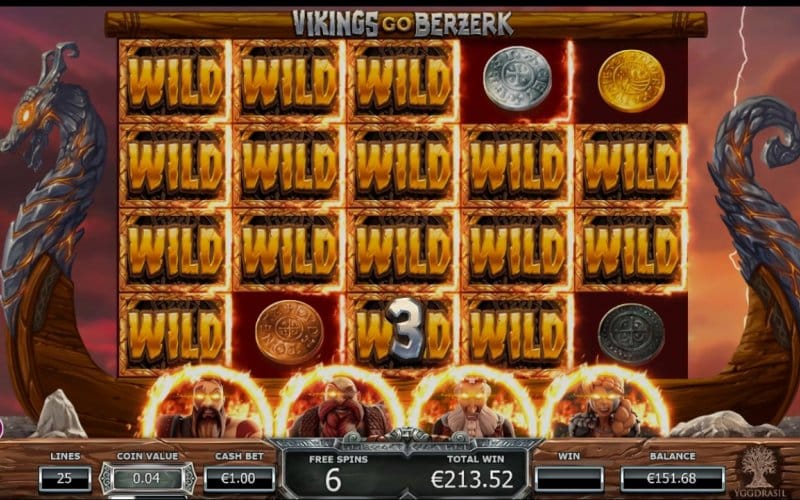 Last thoughts On Vikings Go Berzerk - Hit or Miss?
On all points, this online casino slot game has done pretty well. The theme of this sot is well created, and the various features all provide lovely gameplay. Join the sail and conquer the sirens and rack up treasures while at it! We recommend this game. If you enjoyed this game why not also check out Viking Gods Slot Machine, which also carries a similar theme?