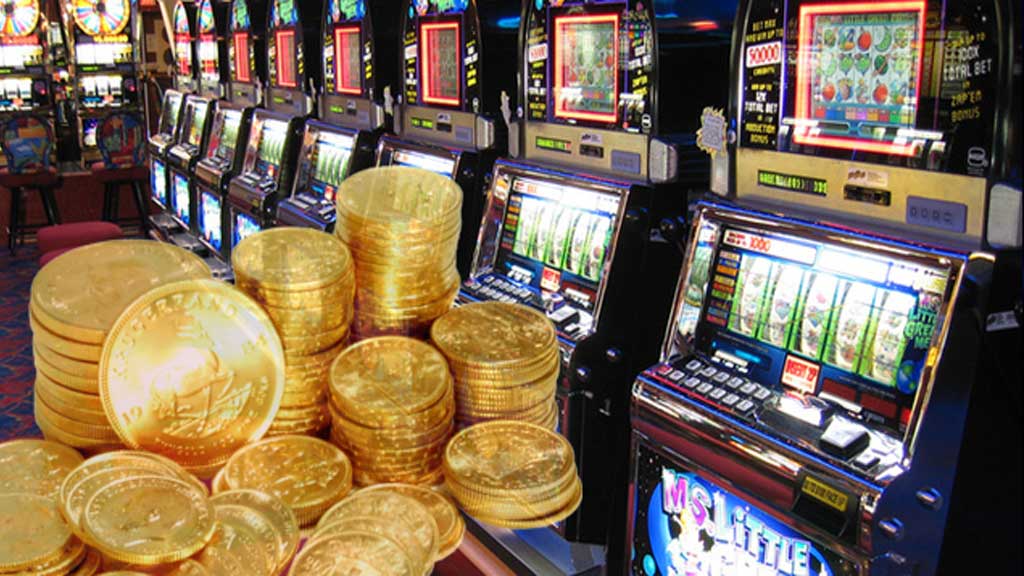 Which Slot Machines Pay the Best in 2021?
We are super excited about slots in 2021. Why? Because they're better than ever! All of our favourite software providers, including the likes of NetEnt, Microgaming, and Playtech, have ramped things up a notch or two. Plus, we see the rise of some smaller studios such as Just for the Win, ELK Gaming and Triple Edge Studios.
So, what does this mean for the players? A lot more choice in terms of content for a start. You can now play more themes and adventures than ever before, and mostly, the graphics are looking at their best too. But it's not just aesthetics we're interested in for 2021 online slot machines.
No, we're looking at payouts. The best slot machines in 2021 are paying out some decent money, and now is as good a time as any to get involved with that. This is down to a number of factors, including the RTP, the max win and the volatility of the slot.
So, without further ado, let's find out how to identify the best 2021 slot games and take a look at some of our personal suggestions. Plus, we'll explain how to make the most out of them with bonuses at Slots Racer and have a glimpse into the future as well. Don't go anywhere!
Playing Online Slot Machines in 2021
Punters are paying slots more than ever in the year of 2021 and developers know this. So, they're working harder than ever to put out the best quality online slot games. There's a lot of competition, and this bodes very well indeed for us players.
Some trends that we've noticed for 2021 https://nz.slotsracer.com/all-games is a wide range of volatility (you can pay slots that pay out on most spins except small amounts, or very rarely except with huge amounts of cash) and top tier, immersive graphic design. Some other innovative features are Megaways, Infinity Reels, Power Play Jackpots, Jackpot King networks, and others.
But why exactly do punters still love the slots so much in comparison to all of the other amazing online casino games available out there? There could be a few reasons for this.
Why Play Slot Machines and Not Other Online Casino Games?
Online casino games include some real classics such as blackjack, roulette and baccarat, yet the online slot game industry accounts for over 60% of the industry. So why is this the case?
Part of it could be the range of themes, of course. You can go anywhere in an online slot game: Ancient Rome, 1950s London or even outer space. You don't get this level of exciting variety in other online casino games.
But perhaps an even more substantial reason is that slot games pay out more than any other online casino game. The reason we know this is down to the Return to Player, or RTP for short, of the slots.
The average RTP of a slot game is 96%. This means that if a player were to stake one million $1 spins, they could expect to receive roughly $960,000 back overall. Of course, this could vary massively, especially if the game is high variance, but it is a good rule of thumb to figure out how fair a game is or not.
By contrast, the RTP of some 2021 variants of blackjack tends to be around the 89% mark. That 7% is a huge difference. The fact of the matter is that, quite simply, slots payout better than other casino games, and this is more the case than ever in 2021 so far.
How to Decipher which Slots Pay the Best in 2021
So, you've found a few 2021 online slot games that you like the look of but you're trying to figure out which one of them pays out the most. We've all been there! Sometimes, it really can be hard to find an answer to this conundrum, but we've got some advice that could get you as close as it is possible to be.
There are three main factors that go into determining the fairness of an online slot game. There are other factors at play on top of this, but they're not quite as influential in the gameplay or as useful in our mission.
Let's take a look at the top three anyhow.

Volatility/Variance
The volatility of an online slot game, or variance as it is sometimes known, refers to how tumultuous it is. A high variance slot game will pay out big cash from time to time but you might find yourself with a few dry spells in between those wins. On the other hand, a low variance slot has the potential to pay out often but little amounts.
It's a good idea to understand which type of variance suits your playing style and your personal taste so that you can make the most of your slots experience. If you like your slots easy going, low is the way to go, but if you want to win the big bucks, you're going to want to be looking for a high variance machine.
On another note, it's fair to say that we are used to seeing more high variance slots than low ones these days, especially since the introduction of big bonus features such as progressive jackpots. These things will instantly increase the variance of any online slot game.
Return to Player Rate (RTP)
We touched a little bit on what the Return to Player percentage of a slot game is earlier on. Put down $1,000,000 and expect to receive between 94& and 98% back on that over the course of your staking on average. We would say that the absolute average of a slot is 96%, so look to compare to this.
It's not necessary to rule out any online slot game that has an RTP less than 96%. You can still win decent cash from a 95% RTP slot. However, we would not personally waste our time playing anything less than a 94%.
Maximum Win/Jackpot
A combination of all of these features will determine how much a slot game will actually pay out, with the latter of the three answering the question in the most literal sense. It's up to you to use your judgement now that you know about them, and the averages of them.
You can find out the volatility ranking, RTP or max win of the vast majority of online slot games on review sites (check out the blog section of Slots Racer!) or head over to the manufacturer page of the people who made it. A quick Google search should have all the answers!
Top 3 Paying Slot Machines of 2021
Now for the most exciting part! A look at some of the most highly paying slot machines in 2021. Using a combination of the factors mentioned above, we have deciphered that these three online slot games are the best paying slot machines of 2021 so far.
And what's more, you can play them all right here at Slots Racer…
Reptizillions: Power Reels – 95.69% RTP
If you've not come across Power Reels before, it is a recent invention of the guys at Red Tiger Gaming where effectively, there are a whole tonne of reels that can win you a lot of money with a bit of luck.
A great example of them in action is in Red Tiger's own slot Reptizillions: Power Reels. Even though its RTP is a little on the low side at 95.69%, you can win a whopping 4000x your stake across its 8 reels and 6 rows. Just be aware that this is a high variance slot so you may encounter some dry spells as you play it.
Odin Mega Reels featuring Megaways – 96.18% RTP
Another epic combination of slot machine engines is the Infinity Reels and Megaways combo that Yggdrasil Gaming's cracking slot Odin Mega reels featuring Megaways offers. This Nordic themed slot looks beautiful and is a heck of a lot of fun to play.
But it gets better. The RTP for this slot is above average at 96.18% and you can win an epic $240,000 from a single spin. That's even more exciting when we consider the fact that this is only a medium-high variance machine.
Dazzle Me Megaways – Max Win of 50,000x
Going back to the Megaways again, it would be rude not to mention NetEnt's future classic Dazzle Me Megaways as one of the best paying 2021 online slots.
Interestingly, this is one of the lowest variance examples of Megaways, coming in at just medium as opposed to the high or super high we are used to seeing. But, you can still win a blistering 50,000x your stake! It would be rude not to try this one out…

Where to Play the Best Paying Slots Online in 2021
All of the slots we just mentioned are available to play right now at Slots Racer. And there are a whole lot more available too! If you don't have an account, fear not, as it could not be easier to get hold of one. Plus, you may be able to win an epic 500 free spins on Diamond Strike with your first deposit of just $10 (*terms and conditions apply)!
Here's how:
Go to the Slots Racer home page and hit the Join Now button.

Fill out the form on the next page and then confirm your email address by following the link that will have been sent out to you.

Choose a deposit method from the list available and put down that $10 or more. Good luck!
The Best Paying Slot Machines to be Released
We're only halfway through the year of 2021 at the time of writing, but we've already seen what we would consider to be some of the best paying online slot games of all time. It seems like the slots are just getting better, and you will be pleased to hear that there is more to come for the rest of the year.
2021 is still yet to see the likes of each of the following slots. These have all been announced, and we have varying levels of information on them already. We're yet to know what they're actually like to play, of course, but we are very excited to do so. Here are the potential best paying slots of the back half of 2021:
Tiki Fruits: Totem Frenzy:

this up-coming Red Tiger Gaming slot looks fantastic. And if we know Red Tiger, we're sure it will be packed with cool bonuses that will pay nicely indeed.

Blazin' Bullfrog:

this psychedelic number from the creative studio that is Play 'n GO looks a sure fire hit from what we've seen of it so far.

Empty the Bank:

hopefully you won't empty your own bank with this Pragmatic Play slot. It may be quite the opposite, in fact!
But what about into 2022 and beyond? Well, the way things are moving at the moment, it would be difficult to argue against the case that slots are going to continue to get better and better into the future. We can't wait to see what's right around the corner.

Last Thoughts
There are a LOT of slot games going around right now. We're seeing more slots being released online than ever before. The choice might seem a little overwhelming at times, but believe us when we say that it is absolutely a good thing.
All you need to do is have an idea of what kind of themes you are into, pay attention to the criteria for deciding the highest paying slots that we listed earlier on, and be open minded! Also, make sure that you have fun with it. You can spend all day deciphering the slots machines that pay the best but don't overthink it.
You can always check out demo versions of slots online if you feel like you need a bit of practice or if you want to see what a slot plays like before playing for real money.
But when you're ready to play the highest paying slot machines of 2021, make sure you join us right here at Slots Racer. We've got them all!
Rights Reserved.
Any references to bonuses and free spins are subject to the following terms: New players only, min deposit $10, $8 max win per 10 spins, max bonus conversion equal to lifetime deposits (up to $250), 65X wagering requirements and full T&Cs apply. Please see our promotions page for more information.
Please note that the RTP may change from time to time. For accuracy, see the information of the slot game in question (accessible by clicking 'Play' on the game logo from our 'All Games' tab. You'll need to be logged in to do this).